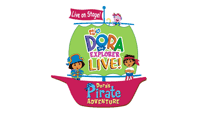 The Tennessean reports in this story
that a live-action version of the popular "Dora the Explorer" children's television show will come to Nashville's Tennessee Performing Arts Center this weekend. The starring role is played by Danay Ferrer, a 30-year-old Cuban actress from Miami.

According to the Nick Jr. web site
, the Dora the Explorer television show "is a half-hour animated children's television series starring a 7-year-old Latina girl and her friends. The show is designed to actively engage preschoolers in a play-along, computer-style adventure. Along the way, kids learn basic Spanish words and phrases, as well as math skills, music, and physical coordination."
Spanish is used in the show
because "[e]ducators believe that introducing a second language to a child before the age of 6 or 7 is an important factor in his/her ability to achieve fluency. For many of our preschool viewers, Dora is their first encounter with a foreign language. As such, the show might teach them a little Spanish and make them curious and interested in learning more, or simply make them aware of and comfortable with foreign languages. For our Spanish-speaking preschool viewers, seeing Dora use Spanish might encourage them to take pride in being bilingual."